Why Would a Child's Feet Hurt?
A child's foot is constantly growing and developing well into their teen years, which means that it's imperative to provide your child with proper footwear and to take certain precautionary measures to reduce their risk for deformities, pain and other problems. Providing your child with proper foot care early on can ensure that they also reach important developmental milestones.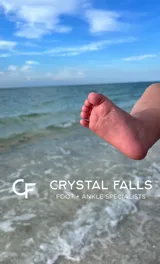 From choosing the appropriate footwear for your child to dealing with flat feet, there are many situations that our podiatrist Dr. Brian Hochman and Dr. Van Dao Hochman at Crystal Falls Foot + Ankle Specialists can address with gentle, compassionate and child-focused care. There are certain problems that parents may notice in their little ones. Maybe their child walks on their toes or seems to trip or stumble a lot when walking. These are scenarios that require a podiatry evaluation. Furthermore, any foot deformities such as clubfoot require immediate and early intervention from a podiatry specialist.

Child's First Visit
During your child's first visit, we will conduct a complete foot exam to determine what might be causing your child's symptoms and how to best correct it. We can provide custom orthotics to provide support and balance for children with flat feet. We can also recommend appropriate footwear that can correct certain imbalances and reduce foot pain and other problems.

At some point, your child may want to play sports. While physical fitness is particularly important for children, feet and ankle injuries tend to be the most common type of sports injuries. Dr. Brian Hochman and Dr. Van Dao Hochman can provide a comprehensive physical foot and ankle exam to determine any risk factors that could leave your child prone to injury, as well as ways to prevent injuries from happening in the first place.
Proactive About Child Foot Care
Our goal is to prevent heel pain, ingrown toenails and other problems that often befall little feet, especially active feet. Since flat feet and other conditions can leave children prone to pain it's especially important that these problems are addressed as soon as possible. Dr. Brian Hochman and Dr. Van Dao Hochman have extensive experience treating diseases, injuries and deformities that can affect children's feet from infancy to adolescence.
---
Ingrown Toenails
Ingrown toenails , also known as onychocryptosis , is usually caused by trimming toenails too short, particularly on the sides of the big toes. They may also be caused by shoe pressure (from shoes that are too tight or short), injury, fungus infection, heredity, or poor foot structure. Ingrown toenails occur when the corners or sides of the toenail dig into the skin, often causing infection. A common ailment, ingrown toenails can be painful. Ingrown toenails start out hard, swollen, and tender. Left untreated, they may become sore, red, and infected and the skin may start to grow over the ingrown toenail.
In most cases, treating ingrown toenails is simple: soak the foot in warm, soapy water several times each day. Avoid wearing tight shoes or socks. Antibiotics are sometimes prescribed if an infection is present. Note: Please consult your physician before taking any medications. In severe cases, if an acute infection occurs, surgical removal of part of the ingrown toenail may be needed. Known as partial nail plate avulsion , the procedure involves injecting the toe with an anesthetic and cutting out the ingrown part of the toenail.
Ingrown toenails can be prevented by:
Trimming toenails straight across with no rounded corners.
Ensuring that shoes and socks are not too tight.
Keeping feet clean at all times.
Many people don't realize they have a fungal nail problem and, therefore, don't seek treatment. Yet, fungal toenail infections are a common foot health problem and can persist for years without ever causing pain. The disease, characterized by a change in a toenail's color, is often considered nothing more than a mere blemish. Left untreated, however, it can present serious problems.
Also referred to as onychomycosis, fungal nails are infections underneath the surface of the nail, which may also penetrate the nail. Fungal nail infections are often accompanied by a secondary bacterial and/or yeast infection in or about the nail plate, which ultimately can lead to difficulty and pain when walking or running. Symptoms may include discoloration, brittleness, loosening, thickening, or crumbling of the nail.
---
Pediatric Heel Pain
Sever's Disease, also known as calcaneal apophysitis, is a disease of the growth plate of the bone and is characterized by pain in the heel of a child's foot, typically brought on by some form of injury or trauma. This condition is most common in children ages 10 to 15 and is frequently seen in active soccer, football, or baseball players. Sport shoes with cleats are also known to aggravate the condition. The disease mimics Achilles tendonitis, an inflammation of the tendon attached to the back of the heel. A tight Achilles tendon contributes to Sever's Disease by pulling excessively on the growth plate of the heel bone (calcaneus).
Treatment includes cutting back on sports activities, calf muscle stretching exercises, heel cushions in the shoes, icing, and/or anti-inflammatory medications. Note: Please consult your physician before taking any medications.
---
Flat Feet
Here at Crystal Falls Foot + Ankle Specialists, we offer same-day casting for custom orthotics and bracing. We partner with one of the country's leading labs, Marathon Orthotics, Inc., to provide you with a superior quality device. We treat a multitude of pathologies with custom orthotics and bracing.
Orthotics, also known as orthoses, refers to any device inserted into a shoe, ranging from felt pads to custom-made shoe inserts that correct an abnormal or irregular, walking pattern. Sometimes called arch supports, orthotics allow people to stand, walk, and run more efficiently and comfortably. While over-the-counter orthotics are available and may help people with mild symptoms, they normally cannot correct the wide range of symptoms that prescription foot orthoses can since they are not custom made to fit an individual's unique foot structure. Orthotic devices come in many shapes, sizes, and materials and fall into three main categories: those designed to change foot function, those that are primarily protective in nature, and those that combine functional control and protection. To learn more, Read More and Click for Video.
Rigid Orthotics
Rigid orthotic devices are designed to control function and are used primarily for walking or dress shoes. They are often composed of a firm material, such as plastic or carbon fiber. Rigid orthotics are made from a mold after a podiatrist takes a plaster cast or other kind of image of the foot. Rigid orthotics control motion in the two major foot joints that lie directly below the ankle joint and may improve or eliminate strains, aches, and pains in the legs, thighs, and lower back.
Soft Orthotics
Soft orthotics are generally used to absorb shock, increase balance, and take pressure off uncomfortable or sore spots. They are usually effective for diabetic, arthritic, and deformed feet. Soft orthotics are typically made up of soft, cushioned materials so that they can be worn against the sole of the foot, extending from the heel past the ball of the foot, including the toes. Like rigid orthotics, soft orthotics are also made from a mold after a podiatrist takes a plaster cast or other kind of image of the foot.
Semi-Rigid Orthotics
Semi-rigid orthotics provide foot balance for walking or participating in sports. The typical semi-rigid orthotic is made up of layers of soft material, reinforced with more rigid materials. Semi-rigid orthotics are often prescribed for children to treat flatfoot and in-toeing or out-toeing disorders. These orthotics are also used to help athletes mitigate pain while they train and compete.
---
In-Toeing and Out-Toeing
Intoeing (pigeon toes) is a condition in which the feet point inward when walking. It is commonly seen in children and may resolve in very early childhood with no treatment or intervention. The child should be examined by a foot and ankle surgeon if the intoeing is causing significant tripping, difficulty with normal activity, pain, difficulty with shoes, or is not resolved in early childhood. There may be structural problems causing the intoeing which require treatment by a foot and ankle surgeon.

---
Plantar Warts
What is a Plantar Wart? A wart is a small growth on the skin that develops when the skin is infected by a virus. Warts can develop anywhere on the foot, but typically they appear on the bottom (plantar side) of the foot. Plantar warts most commonly occur in children, adolescents, and the elderly.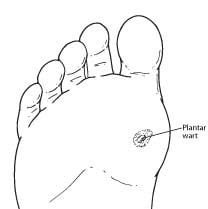 There are two types of plantar warts:
A solitary wart is a single wart. It often increases in size and may eventually multiply, forming additional "satellite" warts.
Mosaic warts are a cluster of several small warts growing closely together in one area. Mosaic warts are more difficult to treat than solitary warts.
Causes Plantar warts are caused by direct contact with the human papilloma virus (HPV). This is the same virus that causes warts on other areas of the body.
Symptoms The symptoms of a plantar wart may include:
Thickened skin. Often a plantar wart resembles a callus because of its tough, thick tissue.
Pain. Walking and standing may be painful. Squeezing the sides of the wart may also cause pain.
Tiny black dots. These often appear on the surface of the wart. The dots are actually dried blood contained in the capillaries (tiny blood vessels).
Plantar warts grow deep into the skin. Usually this growth occurs slowly, with the wart starting small and becoming larger over time.
Diagnosis and Treatment To diagnose a plantar wart, the foot and ankle surgeon will examine the patient's foot and look for signs and symptoms of a wart.
Although plantar warts may eventually clear up on their own, most patients desire faster relief. The goal of treatment is to completely remove the wart.
The foot and ankle surgeon may use topical or oral treatments, laser therapy, cryotherapy (freezing), acid treatments, or surgery to remove the wart.
Regardless of the treatment approaches undertaken, it is important that the patient follow the surgeon's instructions, including all home care and medication that has been prescribed, as well as follow-up visits with the surgeon. Warts may return, requiring further treatment.
If there is no response to treatment, further diagnostic evaluation may be necessary. In such cases, the surgeon can perform a biopsy to rule out other potential causes for the growth.
Although there are many folk remedies for warts, patients should be aware that these remain unproven and may be dangerous. Patients should never try to remove warts themselves. This can do more harm than good.
---
Ankle Sprain
Ankle sprains are caused by an unnatural twisting or force on the ankle bones of the foot, which may result in excessive stretching or tearing of one or more ligaments on the outside of the ankle. The severity of the sprain can impact the degree of damage as well as the type and duration of treatment. If not properly treated, ankle sprains may develop into long-term problems.
Primary symptoms of ankle sprains are pain following a twist or injury, swelling, and bruising.
Treatment includes resting and elevating the ankle and applying ice to reduce swelling. Compressive bandages also may be used to immobilize and support the injury during healing. Serious ankle sprains, particularly among competitive athletes, may require surgery to repair and tighten the damaged ligaments.
To prevent ankle sprains, try to maintain strength, balance, and flexibility in the foot and ankle through exercising, stretching, and wearing well-fitted shoes.
---
Athlete's Foot
Athlete's foot is a skin infection caused by fungus. A fungal infection may occur on any part of the body; on the foot it is called athlete's foot, or tinea pedis. Fungus commonly attacks the feet because it thrives in a dark, moist, warm environment such as a shoe.
Fungal infections are more common in warm weather when feet tend to sweat more. Fungus thrives in damp areas such as swimming pools, showers, and locker rooms. Athletes commonly have sweaty feet and use the facilities where fungus is commonly found, thus the term "athlete's foot."
Athlete's foot usually produces itchy, dry, scaling skin. It is commonly seen on the soles of the feet and in between the toes. In advanced cases, inflammation, cracks, and blisters may form; an infection caused by bacteria can also result. The fungus can spread to other areas of the body, including toenails.
Avoiding walking barefoot combined with good foot hygiene can help reduce the spread of the fungus. Feet should be washed every day with soap and water and thoroughly dried, including between the toes. Feet should be kept as dry as possible. If your feet sweat a lot you may need to change your socks during the day. Anti-fungal powders, sprays, and/or creams are often utilized to treat athlete's foot. Your foot and ankle surgeon will recommend the best treatment for you.
---
We understand how important your child's health is to you. If your child is dealing with foot problems Crystal Falls Foot + Ankle Specialists can help. Call (512) 738-8896 to schedule an appointment.