EPAT Shockwave Therapy
Are You Ready to be Pain Free?
If you are suffering with pain in your feet that has not gotten better with standard treatments in the past, such as cortisone injections or physical therapy, this may be the solution for you!
We are proud to announce our newest service, Extracorporeal Pulse Activation Technology (EPAT), sometimes referred to as ESWT or Shockwave Therapy. Here at Crystal Falls Foot + Ankle Specialists, we continually strive to improve our patient care by investing in advanced medical equipment. It is an innovative, non-invasive way to treat pain.
What Conditions can be Treated with EPAT?
Plantar Fasciitis
Achilles Tendonitis
Insertional Achilles Pain
Achilles Tendinosis
Tendinosis of the Foot and Ankle
Chronic Heel Pain
Acute and Chronic Muscle Pain
What are the Benefits of EPAT?
Non-invasive
No anesthesia
No risk of infection
No scarring
No downtime
Faster, easier healing
Over 80% patient satisfaction
Cost effective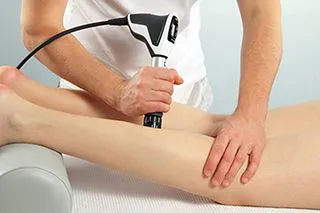 How Does EPAT Work?
EPAT uses pressure waves that stimulate the metabolism, enhance blood circulation, and accelerate the healing process. Damaged tissue gradually regenerates and eventually heals. Treatment sessions will take about 5-10 minutes depending on the area that is being treated. Treatments are performed at our office and do not require anesthesia.
Most patients will require between 3 to 5 sessions.
Some patients report immediate pain relief after the first treatment. Maximal effects can take about 4 weeks or longer. Over 80% of patients treated report to be pain free and/or have a significant reduction in pain. Click For Video
Is it Safe?
EPAT is technology that has been cleared by the FDA and is currently being used around the world. Extensive clinical studies and tests have confirmed both its safety and efficacy. The EPAT treatment comes with virtually no risks or side effects.
Why Should You Consider EPAT?
The success rate of EPAT is equal to or greater than traditional treatment methods, including surgery. This treatment option leaves out the risks, complications and lengthy recovery time of surgery.
Make your appointment today to see if this treatment will help get you to be pain free!
For more information on Extracorporeal Pulse Activation Technology (EPAT), call Crystal Falls Foot + Ankle Specialists at 512.738.8896 now and schedule your appointment today!